E-learning should be accessible for everyone, including people with with disabilities. This blog is about what trainers and people affected by disability can do to ensure that their e-learning is easy to acccess.
Those who use computers regularly may already have assistive devices like specially designed keyboards. In all likelihood they will also have already set up their own computers and browsers to make them easier to use. However, if the e-learning is expected to be done on a computer they've never used before, for instance a computer in training room, it's important to understand that the user may have to access some features that other people might not need. Your IT department should have made sure that these features are operational and that if extensions are required they have already been downloaded or are able to be downloaded by the user.
Screen readers
A screen reader is an assistive technology that enables the blind, visually impaired or people with dyslexia or learning disabilities to read the text that's displayed on the screen with a speech synthesizer or braille display. Job Access with Speech, or Jaws, is the most popular screen reader but it's expensive and may not be available to organisations unless needed on a regular basis. However, a viable free alternative is NVDA (NonVisual Desktop Access ).
NVDA has many configurable settings including voice pitch and rate. You can even set the voice to speak in different dialects including Scottish, West Midlands or Caribbean. If the voice is found to be too synthetic, other options are available for a fee. The Acapela Group provides two different quality versions of voices to use with NVDA. You can listen to and compare them in their type&talk demo section.
Making the mouse easier to use
Changes can be made to the way the mouse pointer looks, and other features can be turned on that can help make it easier to use the mouse. See Microsoft's help.
Modifying the browser
The most popular browsers for PCs are Chrome, Firefox, Edge if you are using Windows 10, and Internet Explorer. They all provide plenty of inbuilt accessibility features though Chrome works slightly differently and also provides free extensions. The pages that describe these features and how to use them in different browsers and different versions are:
What you can change
Zoom – We've probably all used zoom at one point or another to take a closer look at that image. The shortcuts are ctrl + or ctrl - and ctrl 0 to reset. Ctrl + mouse wheel can also be used for zooming.
Caret browsing – This means navigating using the keyboard. It puts a movable cursor on the screen as you would see in a Word document. It makes it easier to navigate if there is limited ability to use a mouse.
Make your browser work better with a screen reader – Most browsers include options to select what the screen reader reads, for instance not reading out the alt tag in images.
Making text larger or smaller* – This isn't quite the same as zoom as it only applies to the text on the page and not the whole page.
Choose website fonts* – Change the font on the page to another type of font
Choose website colours* – Adjust web page colours to make text easier to read for the visually impaired or dyslexic. Example below of a before and after colour change, though I don't suggest you use the after!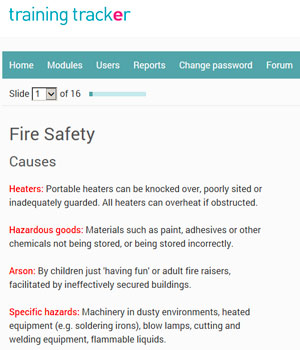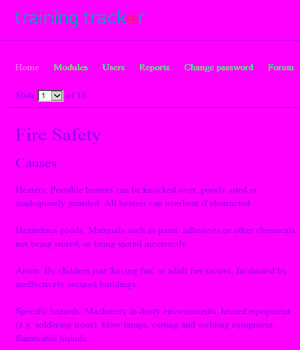 Remember that for some people there are barriers to using the web. However, with very little extra effort e-learning can be made available to everybody.